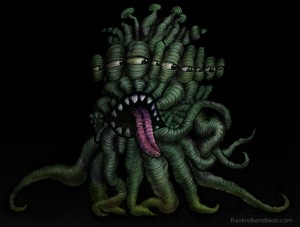 HOW I CREATED A "TANGLAREYE"
One of my favorite things to draw is a fantasy creature.
The video below shows you step-by-step how I drew this Tanglareye (a fantasy creature I made up).
HOW I CREATED THIS PAINTING OF A ROUND ROBOT
On October 5, 2012 I drew the rough sketch for this painting of a round robot. I had no idea at the time that I would be working off and on on this painting for over 3 years!! I finally finished the painting (I think) on January 26, 2016. I have decided that whether a work of art takes you 40 minutes or 40 months it is worth it if you enjoy creating it!