High quality prints of many works of art by Frank Robert Dixon are available through FineArtAmerica. Click any image below to see sizes and prices.
In 2015 I finished co-writing and illustrating the book Crossing The Troll Bridge: A Marketing Guide for Artists and Writers. It is a fun book that encourages and shows artists and writers how to do a better job marketing themselves.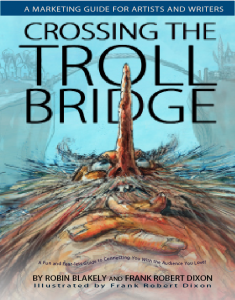 I worked with Robin for 3 years making this book, and I am very happy with how it turned out.
REVIEWS:
"Wow! Crossing The Troll Bridge somehow captures everything that I've learned )bu accident) over the past 15 years. This biggest thing to take away? The part about facing fear. All of the points are extremely important and must be followed for a creative person to succeed.." –Eric Joyner, artist at ericjoyner.com
"…Deeply charming and incredibly useful, a perfect metapor and guide for the writer or artist to the "bridge" between creation and reaching your audience." –Leslie Daniels, author of the critically acclaimed nove Cleanin Nabokov's House
This book is for sale on Amazon.com.